About AssetLink Global
Connecting People, Systems, and Things
About AssetLink Global
Connecting People, Systems, and Things
We Have the Tools to Solve Your Problem
AssetLink is a global leader in the design, manufacture, and execution of remote monitoring systems and next generation cloud IoT services, seamlessly connected over enterprise grade communications networks. Best in class solutions combined with our growing provider ecosystem address the evolving needs of Fortune 500 and public sector organizations in industries including agriculture, heavy equipment & mining, oil & gas, maritime, and transportation.
Early Pioneers in M2M / IoT
2019
Shipped to the first oil & gas customers using intelligent expansion systems for the AssetPack product line, allowing for expansion to dozens of sensors, and the first hybrid, solar powered, edge intelligent 4G LTE/3G/Satellite IoT gateway, the AssetPack-4.
__________________________________
2018
Launched small Vessel Monitoring System solution for fishing vessels and maritime users such as The Ocean Cleanup project, and the sensor monitoring platform for environmental science users such as NOAA and numerous Universities, in addition to existing oil & gas and transportation solutions.
__________________________________
2017
Shipped the 10,000th AssetPack-3 device for a major oil & gas services customer using the device in over 45 countries.
__________________________________
2016
Launched commercial reseller partnerships to provide satellite IoT service and support in Russia, Australia, the EU, Mexico, and numerous South American, Asian, and African countries, as well as a major partnership with IBM.
__________________________________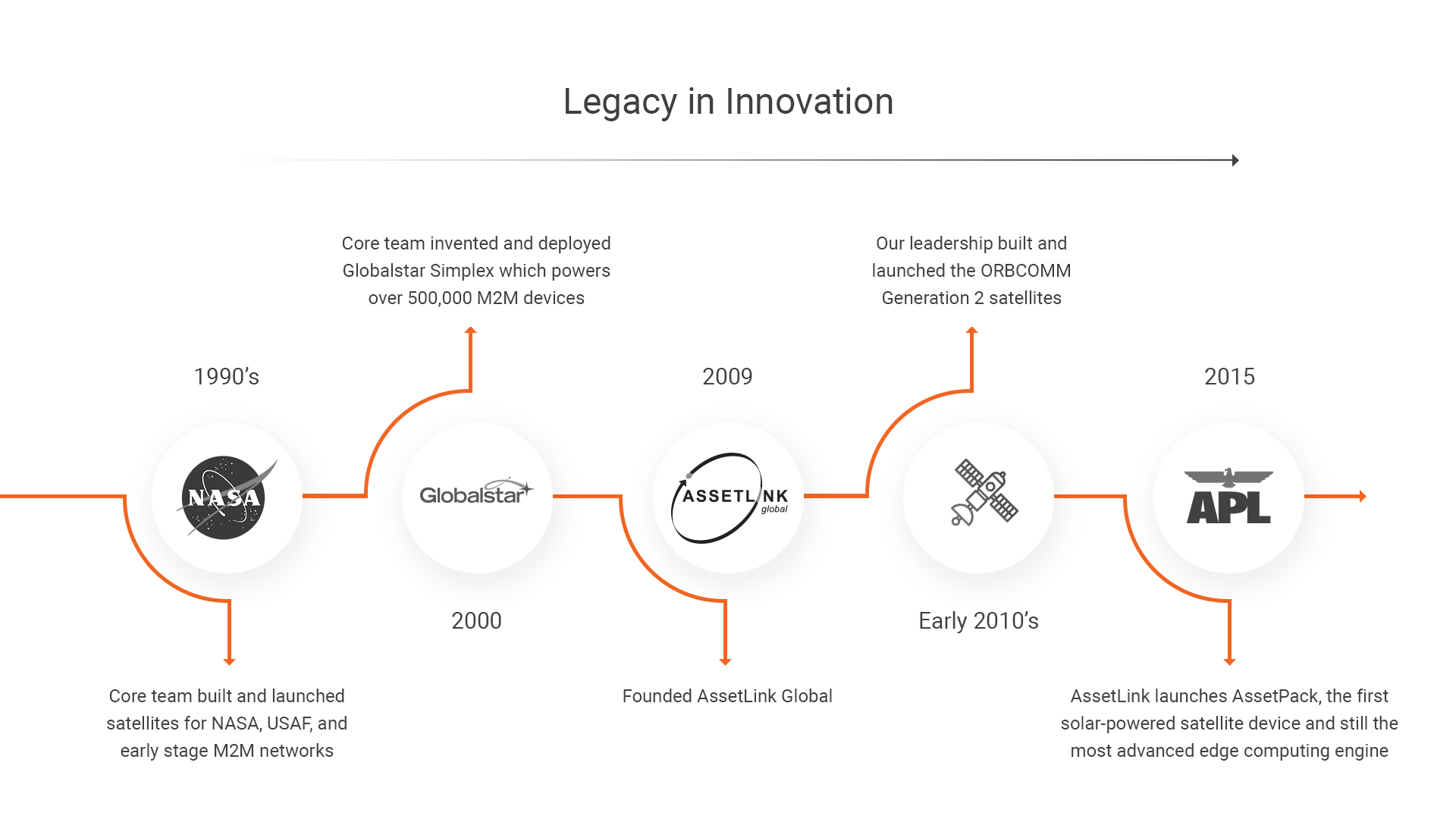 Company Information
AssetLink brings a new level of capability at the edge. We invest in IoT technologies that provide the insights to solve the socio-economic challenges of tomorrow. Explore our quick facts, history, and commitment to internally sourced Research, Development & Manufacturing.
Leadership
Our team includes seasoned industry professionals and technology SMEs in disciplines ranging from wireless connectivity to the IoT. Our combined knowledge and experience
makes us global leaders in
edge intelligence.

Blogs
Coming soon! Stay informed with latest IoT trends.

Careers
Explore opportunities to work with IoT innovators who help bring new ideas to market.